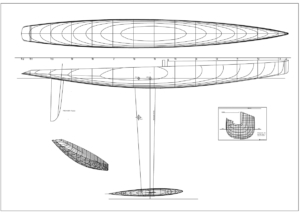 Phoenix 6 – 10r The P6 is a radical departure from previous Phoenix Marks. The hull shape features my latest thinking and has elements from both the P5 and GothiX 10rs. The hull features very narrow overall beam with tumblehome, high Prismatic hull shape and chine at the stern. The P6 1200mm waterline and can be ballasted from 3.8 to 4.0kg ballast.
After payment is made. I will email you the pdf file.
If you require another format: DXF, or DWG, 2D or 3D or printed paper plan, just ask.
Molded hulls are available.
$30AUD