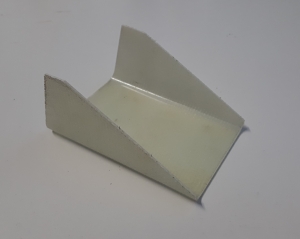 IOM Forward Winch Mount
Epoxy/Glass. Can be adjusted to fit most winches and boat designs.
40mm H 57mm W 85mm L
$25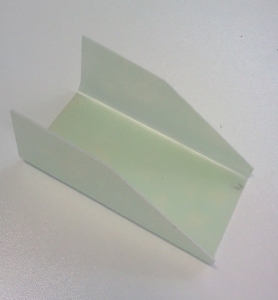 IOM Servo Mount.
Epoxy/glass. Can be adjusted to fit most servos and boat designs. 40mm H  57mm W 105mm L
$25
IOM Fin Case/Mast Tube Epoxy glass
Fin Case  will take a 7mm rectangular section fin top and will take most fins when cut down to fit.
Mast Tube has space for fore and aft bottom plate to prevent mast from rotating.
$30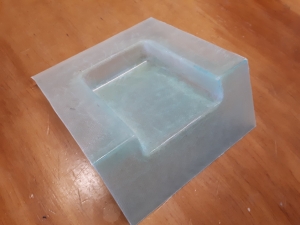 IOM "Ellipsis" Aft Cockpit for sloped transom.
Epoxy/Glass.
20mm H 70mm W 100mm L
$35
Ellipsis IOM deck. This deck will fit most IOM. The deck is made in one piece but is usually cut in half for posting. Please let me know if you need the deck in one piece. Postage charges will be higher. The aft deck is available when in two halves without the hatch cutouts. The foredeck hatch is supplied.
Clear Epoxy Glass: $100
White Epoxy undercoated $125